So we've been back from the cruise for a couple of weeks now and I figure you all want to know about the fun that was had whilst you all were toiling away at your daily grind. First of all we knew the trip was going to be going to be good when, at 5:30am after checking in and noticing that were leaving out of gate C-5, my cousin looks at me and says, "man, too bad we're not leaving out C-4, cuz we are DYNOMITE!". To which I had to hang my head and laugh at his corny ass joke, when, not a minute later as we were going through the security pre-screen I point out that we are not allowed to bring guns on the plane,
Cwik
stops and looks at us and oh so flatly says (while flexing),"But I can't remove these guns." Yeah, it was gonna be a good trip.
On the plane I'm pretty sure the old couple in front of us shat their pants twice. Seriously, farts do not linger that long. So, I tried sleeping on the flight which I just couldn't do for some reason. It was Monday morning and I hadn't been asleep since sometime Sunday morning. I caught about a 15 minute nap in the van to the port, but really, I was spent.
So in the process of checking in to the ship things started to really look up when four women started chatting us up, this was perfect, since you know, there was four of us and four of them. Anyhow, they became "Team Oklahoma" since, they were all from OK. Later on we'd find out that two were married and the other two were not in fact sluts. Dammit. So we got on the boat, and into the room and I straight fucking passed out till the boat drill.
The first night in the club Cousin and Brother tried wheeling a couple of chicks from Texas that straight shut 'em down. Well, really they said, "maybe in a couple nights". But that never happened. HOWEVER, a chick that I started working on, that I put in the time on, was in fact scooped by cousin and successfully closed the next night. She was Russian and hot, and my own cousin cock blocked me. MY OWN COUSIN. However, I tried my damndest the first night to cock block him back. I was mostly successful, but not successful enough. Meh, he earned it. Now he owes me one.
Other than that it was a really relaxing trip. We played some knock down drag out bingo, and I kicked some ass in lame trivia and won a plastic trophy. It actually came down to a tie breaker question, "What is the currency of South Africa?" I was blurting out "Rand!" before she even had time to look at me. WINNER! I was basically going around and trying to get all the free shit I could. I completely failed on getting my free art. I wanted to go get more trophies that I forgot about the free art and never tried to get it after that. Lame.
Anyhow, Cousin got laid, we all had fun, and then we missed our flight on Saturday. Why? Well, they had 8 customs agents trying to process the entire fucking ship. 8. 2000 people, eight agents. We were in line at 8:30am and didn't clear customs till 11am. We managed to get to the airport by 11:30 for a 12:05 flight. Spirit would not let us check in. There was a big hullabaloo and we were pissed, they were completely unhelpful and we ended up waiting for 2 hours to talk to a supervisor who pretty much did nothing to help us. So we had to get new tickets and I had to cancel travel plans to Chicago due to missing a connecting flight, which meant I was out even more money since I had prepaid for the hotel. The upside? The 8:15 flight we got transferred to was delayed till 10:00 so we got to watch the first two periods of the Wings game in the airport bar. Yay! And apparently Corey Haim was heading to Lima, Peru. I was sleeping through that part, but I do have two product endorsements: those neck pillows, and the Bose Quiet Comort 2 head phones. Seriously, awesome.
Anyhow, since this post was pretty boring, I'll leave you with a comic: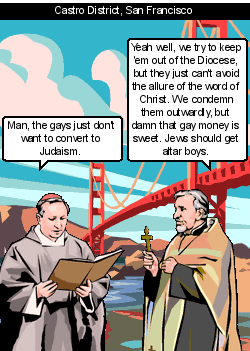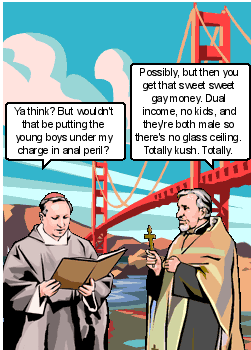 until i get a chance to edit that, here's the link:
http://i26.photobucket.com/albums/c130/drunkenchud/41563.png