So, last night I was at the Red Wing's game having fun, drinkin, and being loud. You know, the usual. Middle of the second period all of the sudden I feel this weight on my knee. I look down and what to my wondering eyes should I see? This guy: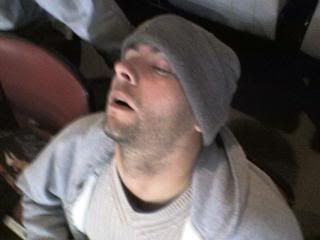 So after jostling him a few times and asking him for his beer and his wallet we were sure he was indeed passed out. When I received no reply to either query we knew it was time to start to fucking with him. So, I had the guy in front of him take a snap shot of me with "passed out drunk guy"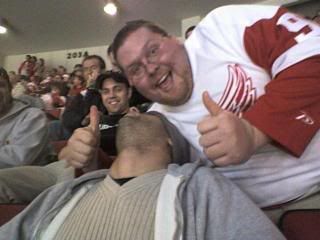 The little credit card pagoda right outside our section gives away something every game for filling out applications. This night it was Red Wing's blankets. He happened to have one with him so we covered him up. By this point people all around started taking notice. Cameras were coming out left and right. When the period ended this dude with his kid decided it was photo op time. The old man had his kid sit in the seat with his arm around passed out drunk guy and pops took a quick snap shot. I wish I had a pic of that, but alas I do not. However, this girl did come over from a full section over to poke and prod passed out drunk guy. I went outside to have a smoke at this point, but apparently poke and prod chick came back, this time with lipstick.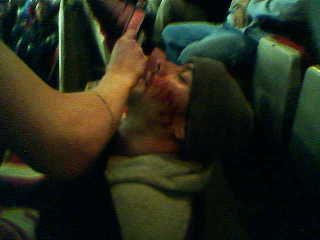 So, I was outside smoking and showing off my pictures of passed out drunk guy and telling everyone which section he was in so that they too can have a photo op with him. However, much to my chagrin when I got back… he was gone. Apparently medics came up and took him away.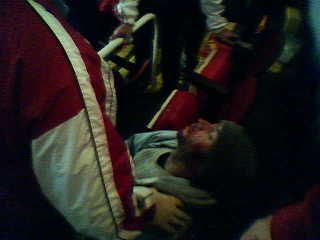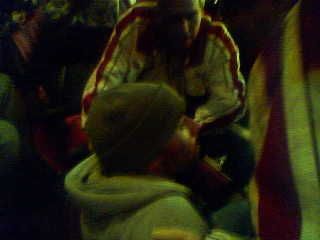 It was reported to me that passed out drunk guy's real name was Chaz. At least, that's what he told the medics. However, this trooper while being escorted down the steps had one parting statement, "hey, where's my beer?". So last night, we drank for Chaz.