The last words I said to my brother as I left were, "Don't lock me out, I don't have any keys". To which the reply was, "I'll be here all night, don't worry". Famous last words. get off work at 2:50am and walk up to the door only to find it locked. No bigs yo, he just forgot and now I'll knock. Hmm... knocking didn't work, I'll call his cell. No dice there, I'll call the house phone. Odd, he's not answering that either. Walk around the back of the house see if the doorwall is unlocked, maybe he's just fuckin with me. Nope, locked, but hey! What is that I see sleeping on the couch? My passed out drunk brother. So I begin the door banging. And by banging, I mean, BANGING. It sounded like world war 3 with my fists and the metal door. I was pounding on the window above his head, I was pounding on the doorwall, I was pounding on the door for 30 seconds straight that I actually woke a neighbor. So I start calling anyone with a key, and no one answered. Damn them, damn them to hell. So, sitting in the balmy 16*F heat, I decided to start a frantic search for any lost keys that I may or may not have forgot about. In a fit of cold, I kicked our recycling bin (don't knock it, it's fun) which in turn slammed into our bottle return bin which jumped over about a foot, and there, all rusty and gooey from slush and garage bullshit was a set of spare keys I had lost about 3 or so years ago. I was semi relieved, yet, skeptical at the same time since we'd had the house re-keyed in the last 5 years and I'm not sure of the timeline from when the house was re-keyed and when I last used that set. I wiped them off, grabbed a wire brush and scrubbed them off, and stuck it in the lock. The fucker worked. I walked up to El Passo Outo Drunko and smacked him. Nothing, not even a blink. SOOOOOOOOOOOOOOO... I felt he needed shamed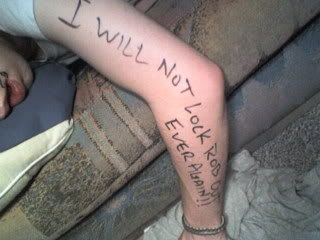 This is what happens when you fight a stranger in the Alps!
******UPDATE!!******
4:45am
He just woke up, got some juice, went into the bathroom with big mirrors, and noticed nothing. I love my life.