I have solved all the world's problems. no need to continue to argue or debate. apparently all you need is nuclear power, wave power technology, a re-education of global politics to the proletariat, the dissolution of the UAW and a predominantly libertarian viewpoint. also, jack bauer has to be allowed to act with complete autonomy. cuz, let's face it. in the clutch when he's yelling "WE'RE RUNNING OUT OF TIME" you get that warm blanket feeling.
anyhow, the other night for superbowl sunday i ended up at a friend's house. she was having a couple friends over and one of these wonderful friends felt that she owed it to me to shake hands with my penis. let me tell you that in no uncertain terms, i enjoyed this greatly. so, since i have nothing else to add to this, you get pictures of shit we wrote on the local bar while it is undergoing renovations.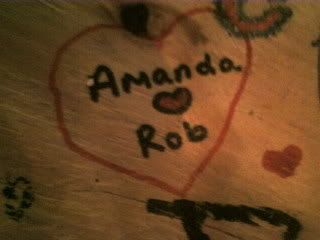 awww, amanda hearts me, and i heart her.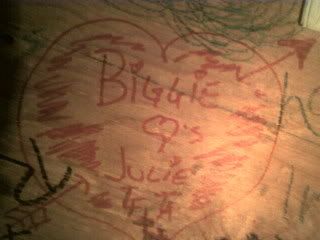 what's this? i heart julie? whatever will amanda think? shhh... don't tell either.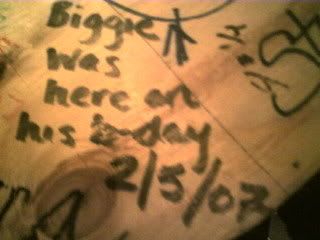 yeah, i was too drunk to write that, so thanks to erika for doing so.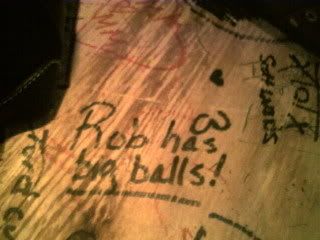 hehehehehe, yeah, i kinda do.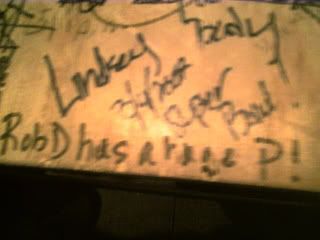 kinda out of focus, but it says "rob d has a huge p". while this is fiction, i will accept it as fact.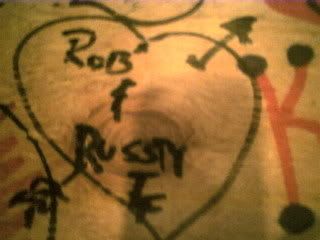 originally i had written "Rob & Pussy" in a heart. Jen decided that my well spaced writing deserved some fucking with, so a "t" was added before the "y" and she turned the P into an R, yeah...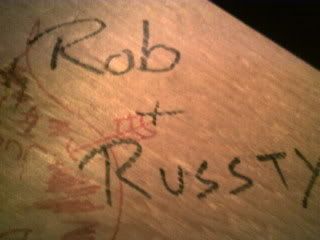 FUCK RUSSTY! russty:pussy as mapplethorpe:straight
damn you russty!!!