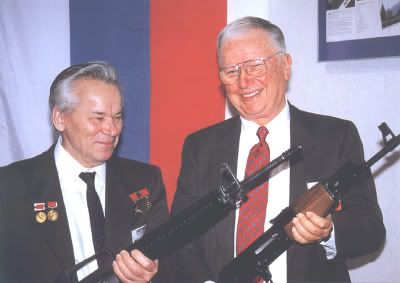 For those of you not familiar with the two gentlemen in the photograph, they are
Mikhail Kalashnikov
and
Eugene Stoner.
The sheer symbolism of this picture goes well beyond that of mutual respect. But more to the ability of man to overcome itself. Read up on the men, and realize on a larger scale what that picture represents to you.
-------
ok. enough thinking. now... time to enjoy some links.
Apparently, rumors were that the orginal Super Mario Bros. was laden with Communist propaganda.
Somebody decided to REALLY make it blatant. this one of the better flash animations i've seen.
I want to party with this chick. she can pee, do a beer bong, chew bubble gum, and speak drunken jibberish all at the same time.
Carolyn Murphy, S.I. Supermodel, has a sex tape. here's 3 or so minutes of it. Gotta love a girl who knows how to please herself while on top. mmm mmm.